Sunday, July 17, 2005
Blatant Theft and Vintage Hilarity

I'm running on less than three hours of sleep today. Graveyard shift coupled with small unrestful child makes for poor bloggery.

I shall, therefore, without further ado, bid my own originality adieu and steal directly from Franklin's blog, because I'm sort of a tit like that. In fact, I'm stealing from his COMMENTS -- how lame is that? This, from birdfarm over at MadTeach, is one of the funniest sites I've seen in a while.

Better blogging when I've had more sleep. For now, I leave you with this ...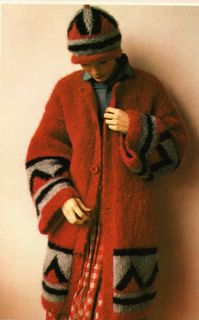 Ingeborg smiled to herself. Oh yes, she was "ready to rumble", indeed.

Comments:
What is it that makes people think things like that are worth knitting? Although I would love to find one in a thrift shop so I could have tons of yarn to play with. LOL.
You can find good in anything.
:)
Post a Comment
<< Home