Monday, April 25, 2005
The Whacking of the Weeds

Today I experienced The Whacking of the Weeds. Good grief, can you HAVE more fun with your clothes on? (Or maybe with your clothes off. I have not yet Whacked the Weeds of the front yard -- tune in tomorrow for updates.)

(Please note that this is not some dainty euphemism for further redecoration of my snatch. I am referring to yardwork you filthy perverts.)

I must say the whole thing (except for when I learned the lesson about how to point the hose sort of at an angle when cleaning off the Whacker of Weeds in order not to soak the last pair of semi-presentable pair of pants one owns) made me feel desperately butch (but in a girly way, honest!); it was almost as much of a turn-on as when I got my first electric drill.

I do believe some girls were born to have power tools, and that I am one of them. Take that as you wish.

Take (please), also, this little creation, found in the knitting books I scooped yesterday. These are, allegedly, salamanders; I'm pretty sure they're teddies. With the clap.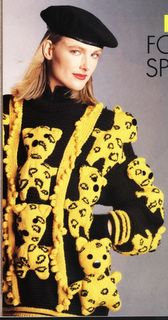 And I think we just know whose parents ended up buried in the back yard, don't we?





Sleep well, if you can.


Comments:
aw yeah, I love power tools! We went to check out the locally owned hardware store just down the street this weekend - it was awesome! I was all about the table saws, but when I saw that huge dremel tool display, I think some drool accidentally slipped out. That thing can do anything!
gaile
fidgetybudgie
Post a Comment
<< Home