Monday, October 11, 2004
I'm Thinking About Knitting


How about you?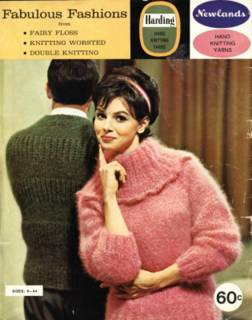 This is the incredibly cheesy cover for a pattern that I'm thinking would have made me look like ass. Women with big boobs likely shouldn't wear collars like that. Anyhow, we don't have to worry about it, seeing I bought the cover and then realized that, in fact, there was no pattern inside.

I actually like the cover enough that I don't feel particularly ripped off. Especially when you consider the fact that it cost me a quarter. Canadian.

We were supposed to go to my parents' for Thanksgiving tonight but my father is sick as a dog and my husband isn't much better off. So, it's a day of knitting on the couch and making jello with my kid.

Not a bad trade, and I still get to go up and pick up a big plate of cooked ham for my family 'round about 4pm.

Life is pretty good. At least for those of us without strep throat.


Comments:
In our family you eat what She Who Is Mentally Deficient and Often Drunk decides you'll eat. And you like it.
My mother can't cook a turkey to save her soul, despite protests to the contrary. She also will only buy a turkey breast, despite the preference of several members of the family for darker meat.
Ham at Thanksgiving is just fine by me. We (hubby and I) who ~can~ cook do a turkey at Christmas at our house. Easter? Who knows what we get then? I usually just eat the vegetables. At least she's never tried to get me to eat lamb. I hate it so much I'd leave the house ...
Post a Comment
<< Home