Wednesday, September 08, 2004
Tainted Love

I think that if y'all voted for Bush in the last election, you're pretty much getting what you deserve. If, however, you're thinking of voting for him in the next election, a) please don't read my blog again, you suck and b) you may wish to note that he's wacked enough to confuse a perfectly legitimate profession with ... what the hell is he confusing this with? Being a gigolo? A date of some sort?

Just might want to think about that.

This is a partial rebuild of last night's post. It's a lot nicer, seeing I haven't been doing algebra for three hours today.

To include the obligatory knitting content (or at least ~some~ sort of knitting content, seeing I've been lax), observez-vous (yes, that's French) my yummy alpaca. I have about 500-600 yards of each of the red and ecru, and 1100-1200 yards of the hunter green. It's very fine, needs to be doubled for worsted weight.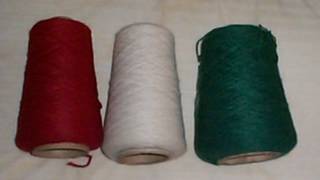 Any suggestions for a project?


Comments:
perhaps you could knit a humugoid christmas tree shaped thing. or perhaps knit me a killer christmas poncho? I LURRVE ponchos! I saw one that has a hood but the pattern is for knitting, not crocheting. bleah.
Post a Comment
<< Home