Wednesday, September 07, 2005
It's Always Darkest Before the Dawn

No, this isn't another post about New Orleans, although my heart still hurts every time I read about the situation there (and Madeleine, thank you for the kind note. You're more welcome than we can say.)

(And I'm pleased to note that the wool I've dyed for auction is drying outside as we speak. My, there's an awful lot of it!)





This is a post about my daughter. My tiny baby.





My silly muppet.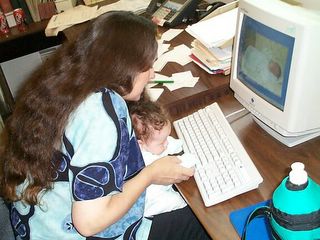 My great big happy moosebaby.





My crazy nugget.





My great big girl.





Tomorrow morning at 9am, I have to turn this small person over to the authorities.

No, stop the panicking, there isn't any sort of child protection order going on here. I may well be the third-worst housekeeper in the world, but there's nothing of that sort happening.

No, I'm speaking of the day that all mothers look forward to with eager anticipation until it's here.

I'm speaking, of course, of The First Day of Kindergarten.

The day I have to turn her over to the public school system. The system that failed me so badly and that failed my husband almost disastrously. The system that will mold her and shape her and take her away from me.

Oh god, I need another year. She isn't tough enough. She isn't big enough. Dammet I haven't bought her a gun yet and there will be boys there!

*koff*

I'll be ok, and she'll be more than ok. She's ready to go. She needs the structure and the routine and I'm betting she'll love it. I need the time and space and really, I can't do math past a second grade level, but dude.

Dude, she's so little.





I'll let her go, freely and with joy, but man ...

Aw fuck, does anyone have a tissue?


Comments:
Being kidless, I can only imagine what it must be like for you. Bittersweet, I expect.
My sister's a schoolteacher. She loves involved parents. You're only handing 'em over to be tossed about it you decide not to be involved. I'm sure if it's possible to wring a good education out of a public school (and it is) you will be a parent who will make that happen.
If nothing else, I can't imagine you raising a kid who wouldn't turn out to be sensitive (in the good sense) with a sturdy sense of humor, and those two things will surely help prevent the damage the system might otherwise inflict.
BTW, Erin's right - cry now. My mom waited until my first day of college and it was far more embarrassing.
Post a Comment
<< Home